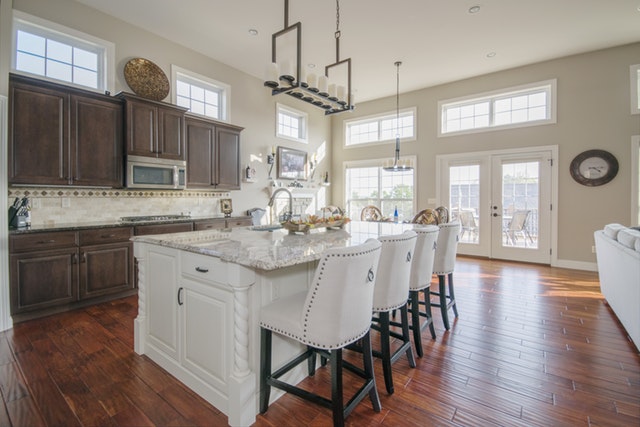 It can be confusing choosing the right countertop material for your kitchen. Here is a list of some common countertop materials along with their pros and cons. Knowing the differences will help you choose the right material to serve your needs.
Quartz Countertops
Quartz is available in different colors and can have a luxurious appearance because it is a manufactured product. It is durable, which means it will not chip or crack as easily as natural stones. Quartz countertops have a non-porous surface which makes it easy to maintain by being stain resistant and it not harboring bacteria or viruses. Some may decide to stay away from Quartz since the price tag will be similar to natural stones while having a more contemporary look and not being as heat resistant as natural stones.
Granite Countertops
Granite is a natural stone product. It is most often chosen for its ability to deliver a luxurious look to any kitchen. Granite is able to withstand hard use and will not scratch even when cutting directly on it with a sharp knife. It is heat resistant, which means placing a hot pot from the stove onto the counter will not damage the stone. However, since Granite is porous, it can absorb liquids such as wine, juice, or oil that will create a permanent stain. The key to avoiding such stains is maintenance, the Granite countertop will need to be sealed once a year or depending on usage to cover the pores. A poorly sealed surface can also harbour bacteria in the pores.
Laminate Countertops
One of the biggest advantages of laminate countertops is that it can look like a natural stone countertop at only a fraction of the price. Laminate does not require any special products or maintenance such as sealing; it can withstand everyday use, and be replaced at a low cost. On the other hand, you need to be cautious with laminate. These countertops can be easily cut or scratched and they are not resistant to heat, placing a hot pot directly onto it can lead to a burn mark or discoloration.
With many countertop materials to choose from, it can be difficult to make a decision. Some of the more important questions to consider are porous or non-porous, durability, and price. At the end of the day you should chose something that fits your needs.
If you would like to purchase a new home or to refinance your current property, be sure to contact your trusted mortgage professional.